Here are some of Stardoll's latest contests and their free prizes and stories :)
Rebecca Bonbon Contest: For this contest you dress up Jennette McCurdy to win a grand prize of a special Rebecca Bonbon item or weekly prize of a Rebecca Bonbon messenger bag. Rebecca Bonbon is the creator of Hello Kitty! Rebecca Bonbon isn't the creator's real name though. The real namec of the creator is Yuko Shimizu! If you ask me Jennette's face doesn't look quite right! What do you think?By the way it is USA only.
This
is the link.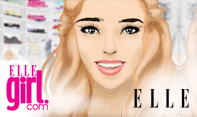 What the Elle do you know? Contest: It is the same kind of contest we have each week! Answer the questions with help from the Elle blog on the Starblog. The answers are so easy to find I'm not giving you them ;) Plus this week there are only 6 :D
This
is the link.
Hmmm...then there is the silk road one which is ALSO the same as the last one. The stark raving glad is just another dress-up that has been out for a while using neons and stripes. That's basically it! What contests did you enter?