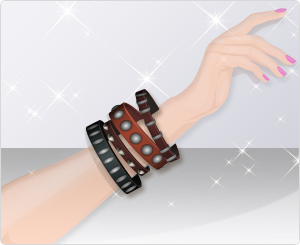 Today's pick of the day is Fallen Angel Hotbuys SteamPunk Bracelet .It costs 9 StarDollars .It is Red, Gray and Black.
This bracelet is in a punk style. There are four bracelets attached.
On each bracelet has something:
The first bracelet is gray stripes
On the second bracelet is gray
circles
On the third bracelet is gray spines.
And in the fourth bracelet is gray stripes.
I love this bracelet very much. I'll buy it, and you?
.What do you think?Will you buy it? Tell me in comments....
The SLN Writer